The Nature Adventure Hunt challenges groups to learn to unravel some of nature's mysteries.  Most people living in city areas are protected from the difficulties of surviving the harsh Highveld conditions.  Why do we have a high rate of biodiversity?  The answers to the very complex questions are hidden in a multitude of simpler questions, such as how do plants survive veld fires?
Overcoming new challenges in a small team or groups is a common way of building team spirit.  The Friends of Kloofendal use qualified nature guides to set a series of questions in the Kloofendal Nature Reserve to test teams' ability and initiate to "see how nature works".
How the Nature Adventure Hunt works
The Hunt involves simple map reading & a nature quiz on foot with fun answers. It takes place in four stages:
Arrival & division into teams – Participants go out into the Reserve.
Briefing – We give each team has a map with part of the reserve on it, with marked control points and an accompanying question sheet. Each control point has a question with two suggested answers for the team to choose or to suggest alternative answers. One or both of the answers will be correct. The answers can be found by simple observation, reasoning and basic knowledge. We assume only very basic knowledge. The control points on the route are a tree, rock, leaf, hole, nest etc. related to the question and marked with a numbered red and white tag. The participants have 1½ hours to complete the course. The answers will be discussed at the end of the event.
Go out in teams – Participants go out into the Reserve
Debrief
The event takes around 3 hours.
On the day, we start off by explaining how the Nature Adventure Hunt works and teach basic map reading using the map for the event. Then the participants must divide themselves into small teams; three per team is a nice size. Each team needs to choose a name and register with the person at the Start and will be set off at intervals so that they can't just follow one another and have to do their own map reading. The courses will be along paths, but the paths are rocky in places, so it is recommended that the participants wear sensible shoes, preferably tackies. Once they have completed the course they must report at the Finish so that we know they are back. For safety reasons and to handle larger number of people, we lay out two courses, with groups initially starting on alternate courses before each group report to the registration area before starting out on the other course.
When everybody is back we will discuss the questions and the merits of given or plausible answers if there is enough time to do so. We now do this using pictures of each control projected onto a screen in the Ecology Centre.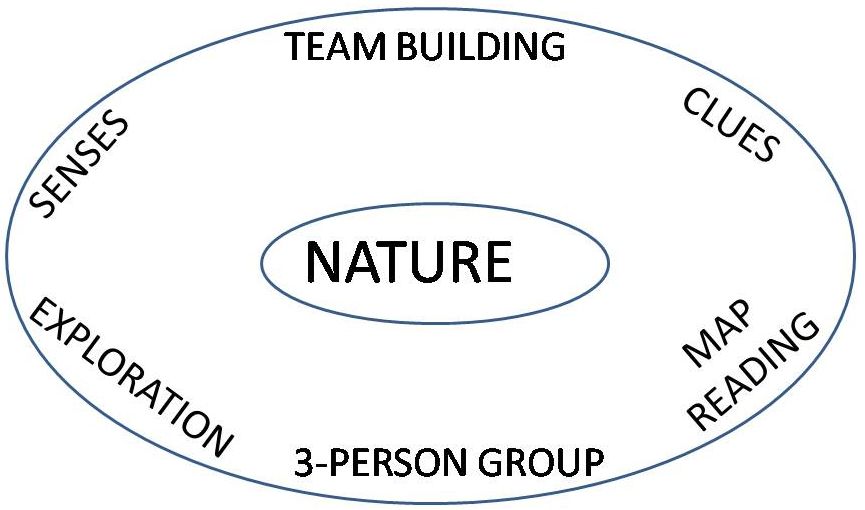 FroK Nature Treasure Hunt
This FroK initiative is used for corporate team building and for big school and scout groups.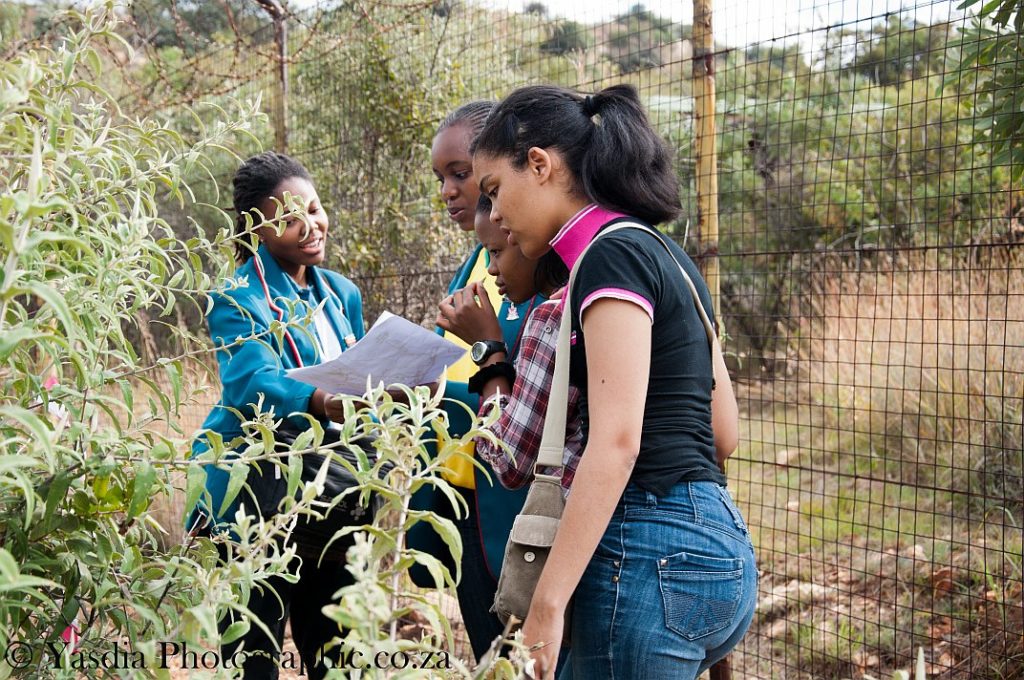 The FroK Nature Treasure Hunt brings people, young and old, into the reserve where in small teams they read their route on a map of the reserve; they answer questions on various natural things on the route, which creates awareness of what all happens in a natural environment (Ecology). Working in teams builds up a healthy team spirit.
We do not put any time pressure on the participants;
Map-reading is simple with the participants following paths;
The questions are focused on interpretation of the local ecology, rather than requiring the participants to possess specific knowledge;
There is not always just one right answer out of a choice of two or more; and
We get no sponsorship of any kind.
Look at Kathy Symonds' looklocal review of one of our treasure hunt events.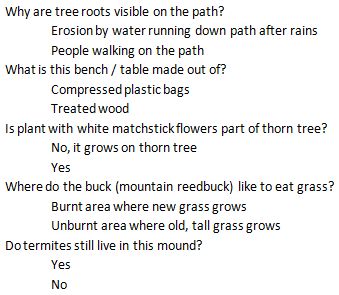 Sample questions and alternate answers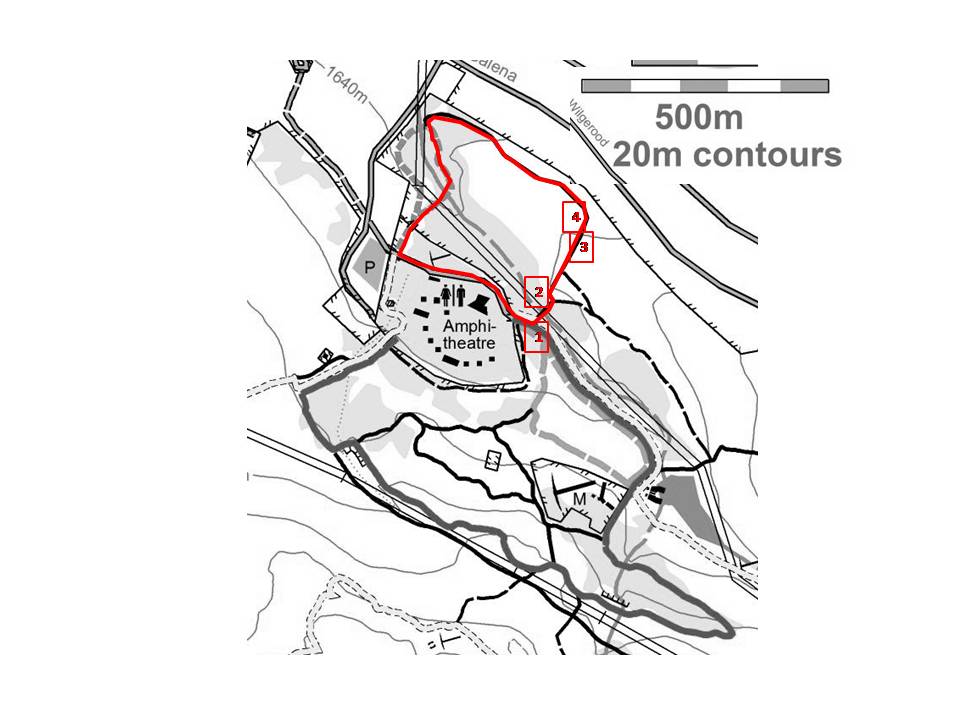 Simplified sketch map of a route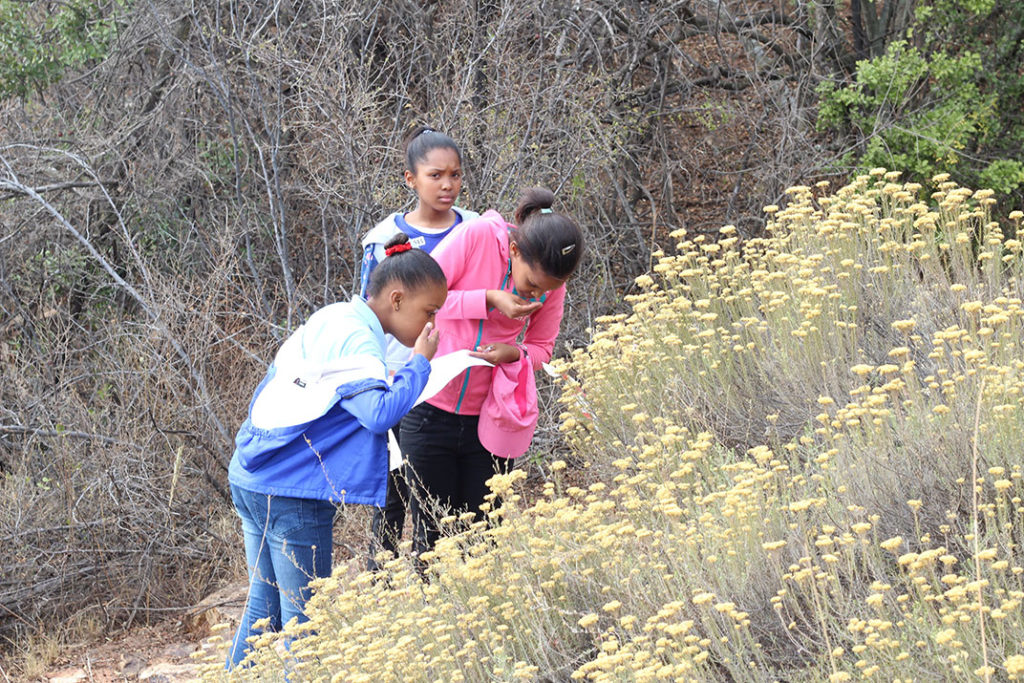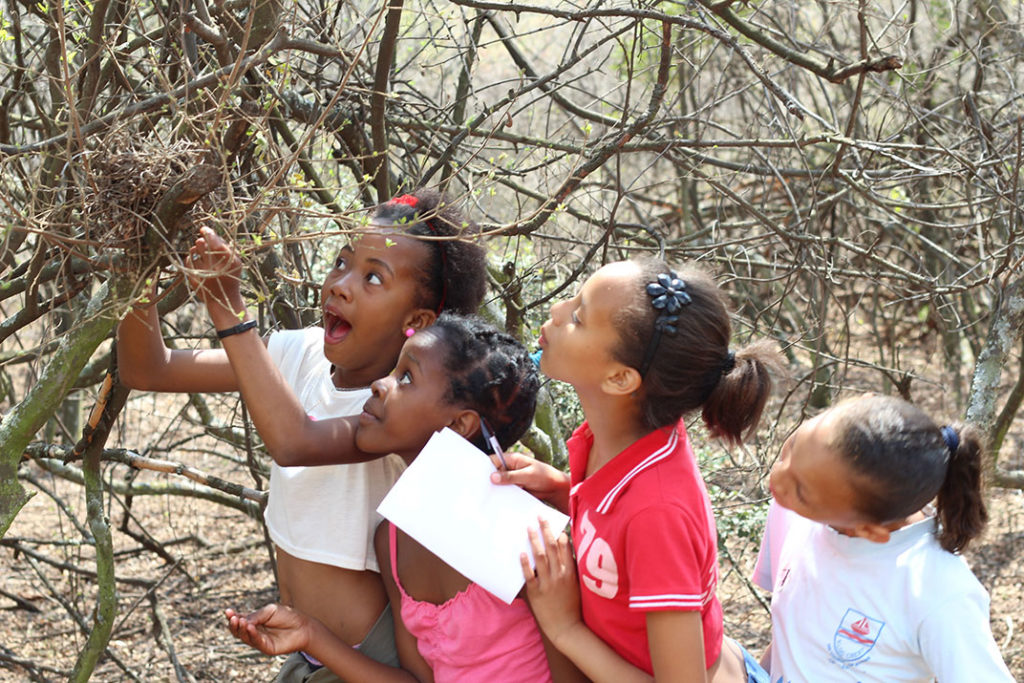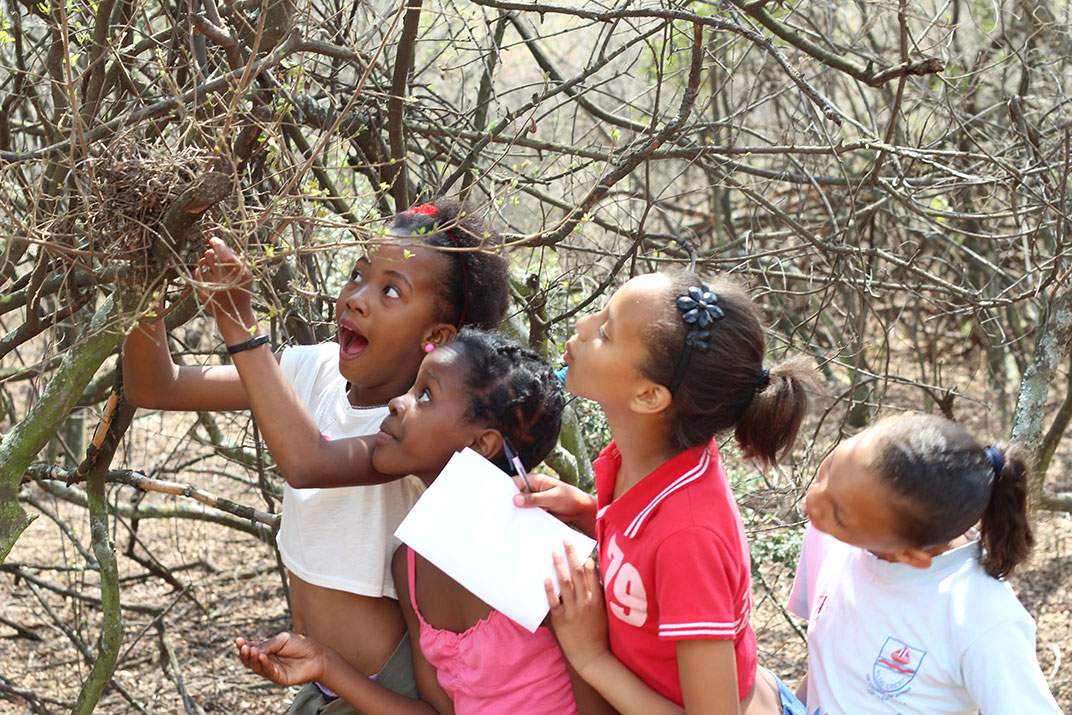 Feeling an old birds nest 
About your Guides and how they set up the Nature Treasure Hunt:
Steve & Karin Spottiswoode
Up to now, Steve & Karin have worked together to set up each of the eight or more Treasure Hunts that have been run at Kloofendal. Each events takes them a combined 22 hours of work. Most of this time is spent before the event selecting phenomena that evoke the most interest, drawing up maps and question sheets and preparing slides of each topic.
Following the common saying that "necessity is the mother of invention", we developed the Nature Treasure Hunts as a way of accommodating more than 80 people without the difficulties of finding and coordinating more than four guides (at no more than 20 people per guide) and without guided groups getting in one another's way. We derived the route marking and map reading concept on Orienteering, a "sport for life" in which we are active participants.
There are many "treasures" that are not always met or appreciated in our increasingly urban lives. Simple "treasures" include smells and tastes, lichens, insects, dead leaves, mining and natural holes in the ground and many others.