Information on Kloofendal Nature Reserve
The Kloofendal Nature Reserve consists of pristine Highveld with quartzite and shale koppies, the associated vegetation with its whole ecology, game, a dam and bird hide, good paths and is 110 hectares in size. The first payable gold on the Witwatersrand was found and mined in the Confidence Reef, which is inside the Reserve and is a national monument. 
We have provided maps of the Reserve which includes paths, streams and contours.
Mountain reedbuck, duiker, dassies and scrubhare are found in the reserve, also many species of birds with the Wailing cisticola and Black sparrow hawk being special to Kloofendal. The Friends of Kloofendal offer 2-hour guided nature walks with qualified guides over weekends. These walks provide information on flora, fauna, geology and gold mining in the reserve.
Clean toilets are available in the Amphitheatre.
The Sandy Croft Stamp mill on the left was most probably the one that was was brought in by Harry & Fred Struben from England in December 1884 and it came to stand on the bank of the stream adjacent to the present Christiaan de Wet Road, where it crushed gold bearing rock mined by the Struben brothers initially and later on rock from other mines as well.
The stamp mill near the entrance of the reserve, serves as a reminder to the importance of Kloofendal Nature Reserve as a site of great historical importance. 
The construction of Christiaan de Wet Road would have destroyed the mill as it stood in the way of the construction. Luckily Elizabeth Viljoen, curator of the Roodepoort Museum at the time, had the Stamp mill moved to corner Goldman and Seventh Streets, Florida where it has been standing for many years and certainly in the last ten years has not been receiving any attention despite the fact that the dept of Arts, Culture and Heritage had the mill refurbished in 2006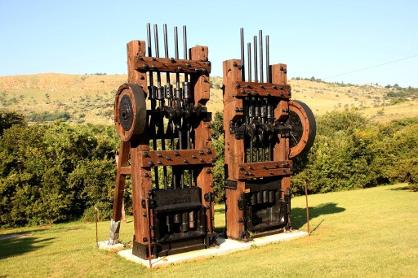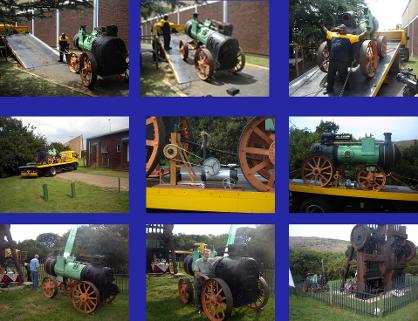 The steam engine behind the stamp mills is a 1910 Ruston Portable Steam Machine and is similar to those that would have been used in mining in the 1880s. In days of old, steam power was used with a stamp battery to crush ore, as part of the gold extraction process.
It had been on display in Roodepoort for 15 years before it was taken to the James Hall Museum of Transport for safekeeping. The machine is not complete and has had a number of its parts removed over the years, so it would be difficult to restore without reasonable funding.
Yet this makes it ideal for a static outdoor display. For its part, the Transport Museum has other similar engines in its collection in better condition.