With the help of a map and (optional) compass, you'll follow a course via several control points throughout the reserve. There is a beginner course which is mostly along the footpaths, and a more advanced course which will take the participants off the footpaths. This event is suitable for all ages and levels of fitness.
Participants must purchase a map (available for purchase when making a booking) to participate in this event. Either 1 map each, or a map per group. Maps will be collected on event day. Please note that no additional maps will be available on the day of the event.
Meet at the Ecological Centre at least 20 minutes before the event. This event will go ahead regardless of the weather. For queries, please contact the Friends of Kloofendal (phone, WhatsApp) on 079 693-5608. For more information about Kloofendal Nature Reserve and maps, please go to www.kloofendalfriends.org.za/events
Book tickets for Kloofendal orienteering www.quicket.co.za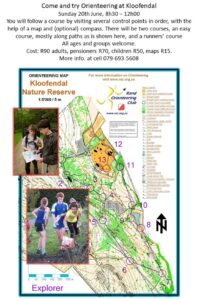 Friends of Kloofendal (FroK)
Friends of Kloofendal is an open conservation NGO (NPO No 092-239) that focuses on the Kloofendal Nature Reserve in the suburb of Kloofendal in the West of Johannesburg. Our Vision focuses on preservation, ecology and education.
FroK bookings and enquiries:
Karin Spottiswoode 079-693-5608 (FroK cell) Private and school guided walks by arrangement
sspotty@pixie.co.za
These numbers are provided as a free service to the general public by the Friends of Kloofendal (FroK) in support of the Reserve and of FroK. It is not a 24/7 or even an 8 to 5 service.
Download information on the FroK School's Environmental Education Programme, aligned with the curriculum.
Please sign up for our newsletter.  We send out a newsletter about once a month.  They are in PDF format and recent ones can be found here.