The next stargazing events will be on 8th June 2019  and will again be presented by the West Rand Astronomy Club.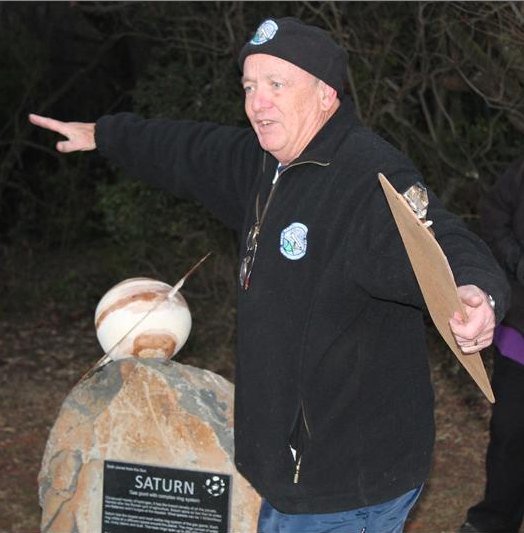 Kenny Nevill – "in action"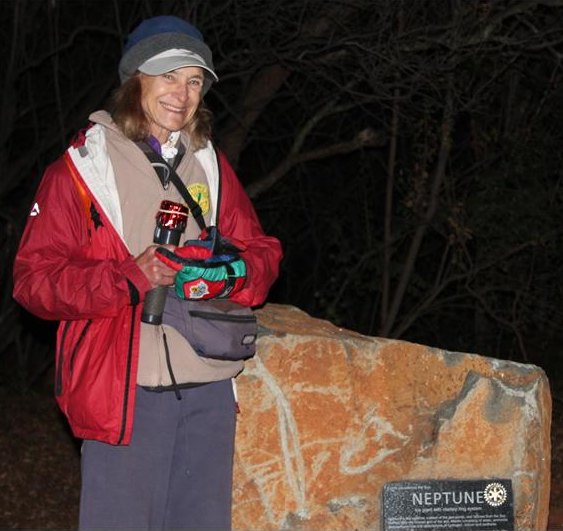 Karin Spottiswoode dressed for Neptune 
Scintillation Star Party 2014
Caxton's Northsider kindly published an article the Star-Gazing evening that the West Rand Astronomy club and Frok held at Kloofendal in 2014.
Stargazing in the Kloof 2010
If you ever wanted to know more about the night skies and the universe but were too afraid to ask, now's the time !
The Friends of Kloofendal in association with the West Rand Astronomy Club will be hosting their annual 'Stargazing in the Kloof' at the Kloofendal Amphitheatre on Saturday 26th May 2010 from 18h00
Several amateur astronomers will be in attendance with a variety of telescopes to give you an opportunity of viewing craters on the Moon, the rings around Saturn and much more.
Apart from the knowledgeable members of the West Rand Astronomy Club, who will be in attendance to answer questions, the well known historian, architect and night sky observer Lance Kinnear will be telling stories about space.
There's also a Galileo telescope and other prizes up for grabs in a rather unique lucky draw competition plus sophisticated live entertainment by pianist Neal Robertson to welcome visitors from 17h00.
This very special evening suitable for the entire family should not be missed especially if you wish to know more about the wonders of the universe.
No pre-booking is necessary, tickets at the gate from 17h00.
Entrance Fee: Adults R60.- Scholars R30.- children six and under free.
Visitors to 'Stargazing in the Kloof' should bring picnic baskets, blankets, warm 'outdoor' clothing and a torch.
Should you require more info please call Tony on 082 900 0153
* * * * *
The Friends of Kloofendal fully endorses Johannesburg's Public open spaces by-laws.
The amphitheater and stone-walled stage at Kloofendal is a lovely area for concerts and other events. These are set within the Reserve and users of the amphitheater area are in a privileged situation within the Reserve. The Friends of Kloofendal are striving to see that this area is used with due respect to the natural environment and the neighbourhood around the Reserve. We also believe that proper use of the Amphitheater area should, as far as is reasonably possible, contain a strong element of environmental education.
We have unfortunately seen some "special events" that have not respected the conditions of use and have abused the privileged situation of being in the Reserve. The Friends of Kloofendal would like to work together with organizers of "special events" to assist in making them as environmentally friendly and educational as is reasonably possible.
FroK cultural and Stargazing events in 2010