The friends of Kloofendal are all volunteers which different skills and expertise, our only income being profit from our guided walks, membership money and few donations. We have various projects which would benefit from a contribution and your contribution would depend if it is a "once-off" donation, or an "on-going donation"
"Once-off":
(i) We have been given a high quality (strong) second hand glass display cabinet by Shocraft, but glass doors, shelves and locks have to be inserted. This will cost R3400.). We would appreciate any donation towards that the value of the whole cabinet is R16000. The cabinet is specifically for the gold mining displays with some original documents from the Strubens – we would make photocopies of the originals.
(ii) Roof of the stamp mill – the stamp mill is in great need to get a roof. So far we have a donation of R7000 towards the roof, but it will cost much, much more than that to get a roof. The two stamp mills were brought out from England by the Struben brothers in December 1885
(iii) Publication of a book/ booklets on Kloofendal's Gold mining history and its geology. The book or booklets will also contain flora & fauna specifically of the reserve.
Our historian would love to create a "coffee table book" on the gold mining history centred around the Struben brothers!
"On-going"
(i) Administration of all the guided walks (gold mining and nature walks, planning & implementation, advertising, bookings, organising guides and convenors, documenting all financial transactions (EFT & cash)involved, providing information over the phone and by email at all times, development & maintenance of the nature & mining displays.
People offering these services should be given some monthly compensation, as at present all these public events over weekends are organised for free, so a monthly donation would be much appreciated
(ii) Stipend for a person to be "on duty" for a couple of hours in the Friends of Kloofendal Education Centre over weekends – may be three hours on a Saturday morning, and three hours on a Sunday afternoon. The public really does enjoy coming to visit our Display centre, but it is often closed as there is nobody "on duty".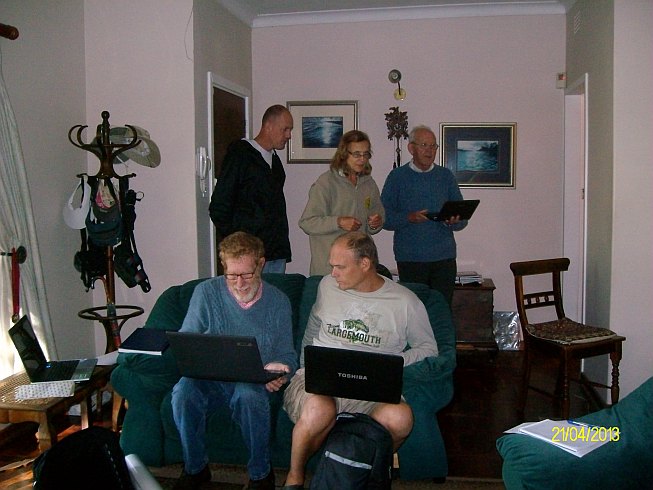 Meeting for compiling brochures
Back row, left-to-right:
Warren Schmidt (editor and Reptile & Amphibian specialist)
Karin Spottiswoode (editor and FroK Environmental Education)
Jan van Wyk (Wild flowers)
Front row, left-to-right:
Rod Kruger (Mining history)
Grant Egen (Butterflies)
Photo by: Steve Spottiswoode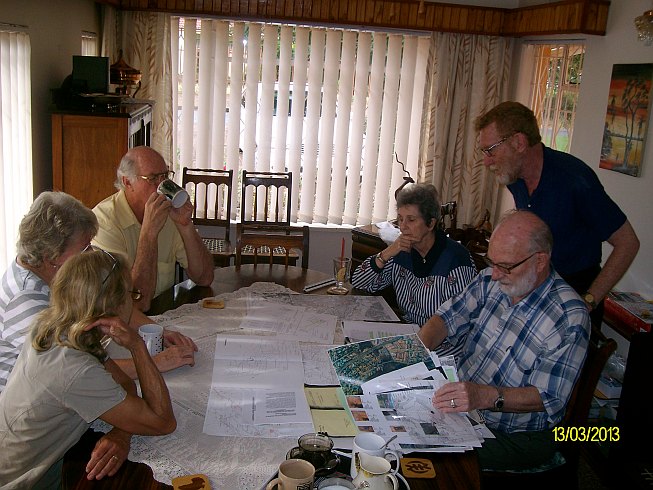 Meeting for discussing geology brochure
From near left, clockwise:
Karin Spottiswoode
Nola Arnold
Dave Arnold
Pam Jamison
Rod Kruger and
Tony Jamison (geologist).