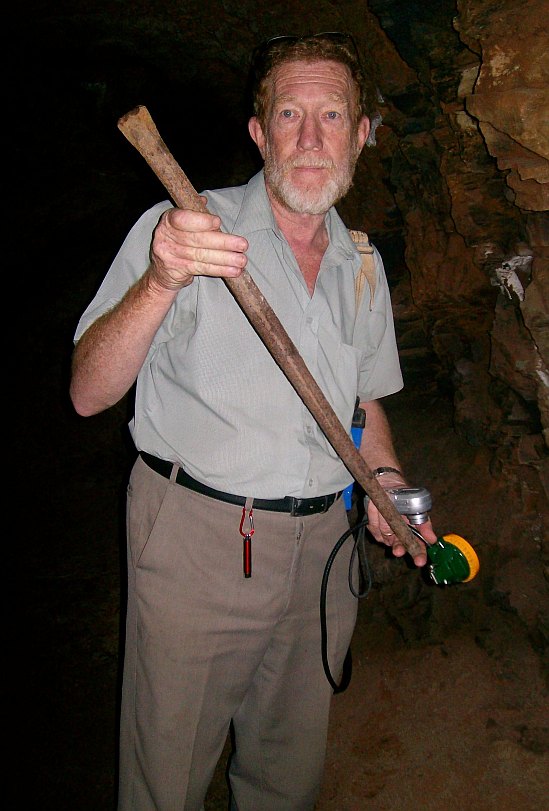 Rod on a visit to Kromdraai mine 
The two-hour history walk takes you from the Stamp Mills up to and into the mine. The walk is easy and the mine is an open-cast mine with no special fitness required. This walk is aimed at adults and children 15 years upwards. For your and everyone's safety, do not touch the rock walls except with the guide's permission.
Look also at our page on the Confidence Reef mine.
Rod Kruger
Rod has delved deep and hard into the history of the Confidence Reef mine and the characters that developed it.
Historical walking tours to the mine and lectures on the history of mining on the Witwatersrand. Rod brings to life some of the personalities of the time of the mining in 1884-1886: Fred and Harry Struben and many others.
Learn about Kloofendal's historical stamp mill & steam engine.
Public tours monthly. 1.2 km round-trip walk to the mine.
Corporate and student tours by arrangement. A nominal charge goes to furthering work at Kloofendal.
Contact: Rod Kruger
+27 (0) 11-475-1782
Cell: 082-477-0319
The gold found at Kloofendal occurred due to the geological history of the area. Please come on one of our geological tours to find out more.
Guided walks into the mine for the public are offered every first Sunday of the month at 14:00. Please book and confirm with Karin at 079-693-5608 or sspotty@pixie.co.za