2016 March and April – FroK has moved into the Ecological Centre after signing the MOA with JCPZ.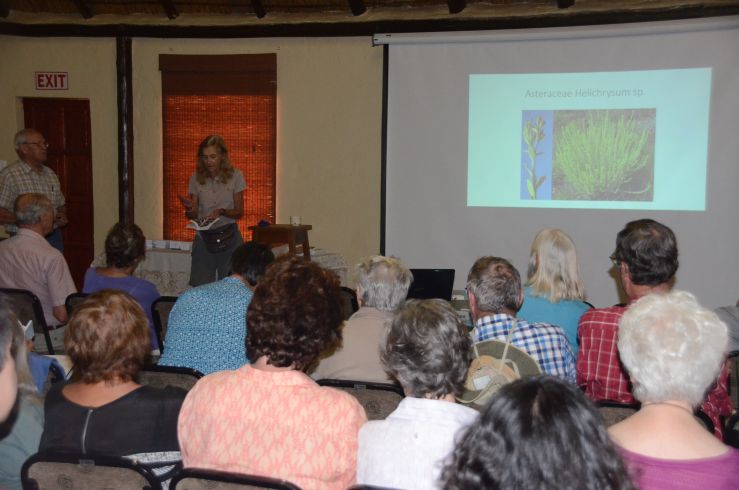 Karin introducing Dr Jan van Wyk during the launch of Jan's booklet: Imaged List of Wild Flowers of Kloofendal Nature Reserve
Displays in the Ecological Centre
The FroK displays have been in the Ecological Centre since April 2016 after being squeezed in a kiosk at Kloofendal since display cabinets were donated by Jeweler Leon Rubenstein in October 2009.
They are now proudly housed in the Ecological Centre to support a Memorandum of Agreement between Johannesburg City Parks and Zoo and the Friends of Kloofendal, signed in February 2016.
With the help of many volunteers, Karin has built up the displays.  As many as 10 000 people a have visited these displays.
ShoCraft kindly moved our special cabinets into the Ecological Centre on 7th April 2016.  Here the team is constructing the display cabinet for Rod Kruger's mining displays.
The other displays in the foreground were moved into the cabinets on the 8th April to be out of the way in time for voter registration on the weekend 9/10 April.  Thank you Peter and Ann Kelham for your assistance.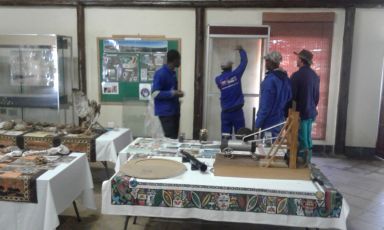 Here are Ecological reports for the Kloofendal Nature Reserve prepared by Dr Noel van Rooyen and Prof Gretel van Rooyen of Ekotrust cc 31 December 2014